By Harold Stearley At Earthwalking
So, I've kept my articles that might be classified as political to a minimum, because, let's face it, people are pretty wound up now days about politics and not speaking very objectively. COVID, however should have never become politicized as it is a public health issue. Nevertheless, people have become polarized over this disease, while many many, many, many bodies pile up.
I was on LinkedIn the other day and a fellow RN had posted that she was seriously considering changing her career because of the stress of yet another wave of full ICUs, all COVID patients, and most beds filled with the unvaccinated. Beside patient census and acuity, she's dealing with short staffing, and with just plain witnessing too much death.
Most of the replies were very supportive, but a few went off the rails in my view and actually started attacking her. The attacks accused her of abandoning her chosen profession and with providing inferior care to patients that were unvaccinated. Now nowhere in her post did she say she was delivering different or an inferior quality of care to any class of patients so those comments came from nowhere other than bizarrioland.
As for abandoning her career, I mean anyone can change a career or job at any point in time. Who's business is that? Only the person who is changing their source of livelihood.
One gentleman tried to make a comparison to his military career, saying he fought for his country and would never abandon his fellow soldiers. Ok, so? That's not apples to apples at all. That's strawberries to hand-grenades.
So what do you think? Should we be trying to dictate people's career choices? Should we deny there is such a thing as burn out and force people who have RN degrees back into service? I hope not because I'm an RN and I'm happily retired. I'm also an attorney so don't start talking about rights unless you've consulted one or actually know something about Constitutional Law 🙂
Thoughts? Perspectives? Fire away. I can dodge bullets pretty well.
In Metta
Feature Photo: I chose one of my wildflower pics for this post. A field of Red Poppies lines this road in Washington State. I enameled them to make them look more like an oil painting.
Flowers are always soothing and the poppy has been symbolically associated with military veterans – specifically the sacrifice made by those who served and died in all of our wars. It does seem like we're at war right now. With a disease and with each other.
I wish everyone peace.
And here are a few articles for fun:
Where are Hospitals Overwhelmed by COVID-19 Patients? Look Up Your State
Nurse Workforce Decline During COVID 'Unprecedented': Study
Almost All U.S. COVID-19 Deaths Now in the Unvaccinated
Covid-19: US surpasses 800,000 pandemic deaths
Published15 December 2021 BBC News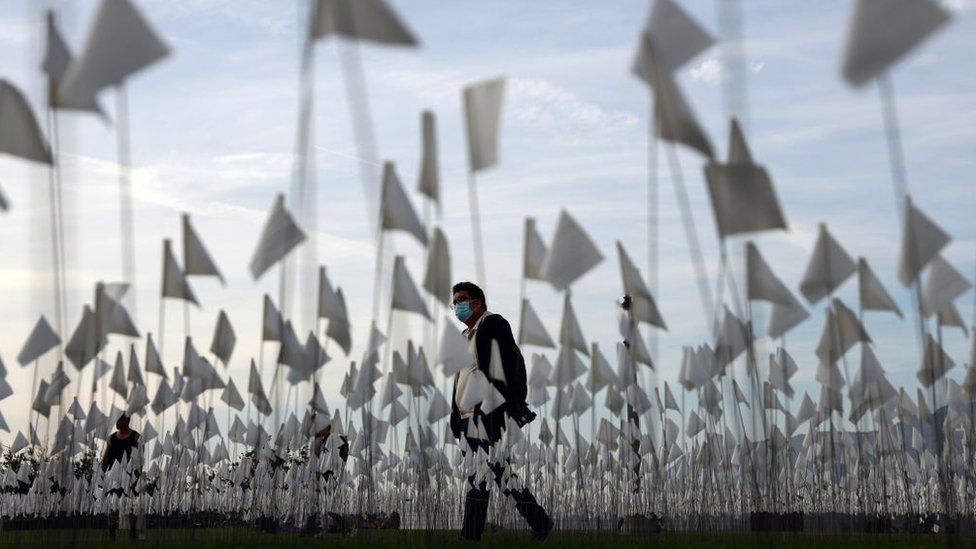 More than 800,000 Americans have now died from the coronavirus, the highest recorded national death toll from the global pandemic.
It comes as the US reached 50 million confirmed cases of Covid-19 on Monday.
Most deaths have been recorded among the unvaccinated and the elderly, and more Americans died in 2021 than in 2020.
The US is again seeing deaths rising at an alarming rate.
The last 100,000 deaths came in just the past 11 weeks, a quicker pace than any at other point aside from last winter's surge.
"The waves of illness that we're seeing will continue until the population-level immunity is high enough to prevent them. Quite simply, we're not there yet," said Dr Keri Althoff, an epidemiologist at the Johns Hopkins Bloomberg School of Public Health.
It has been more than 650 days since the first American patient dying from Covid-19 was reported in Seattle, Washington (public health officials have since attributed earlier deaths to the virus).
Since the Pfizer vaccine – the first jab to be approved in the US – was rolled out last winter, nearly 300,000 more fatalities have been recorded.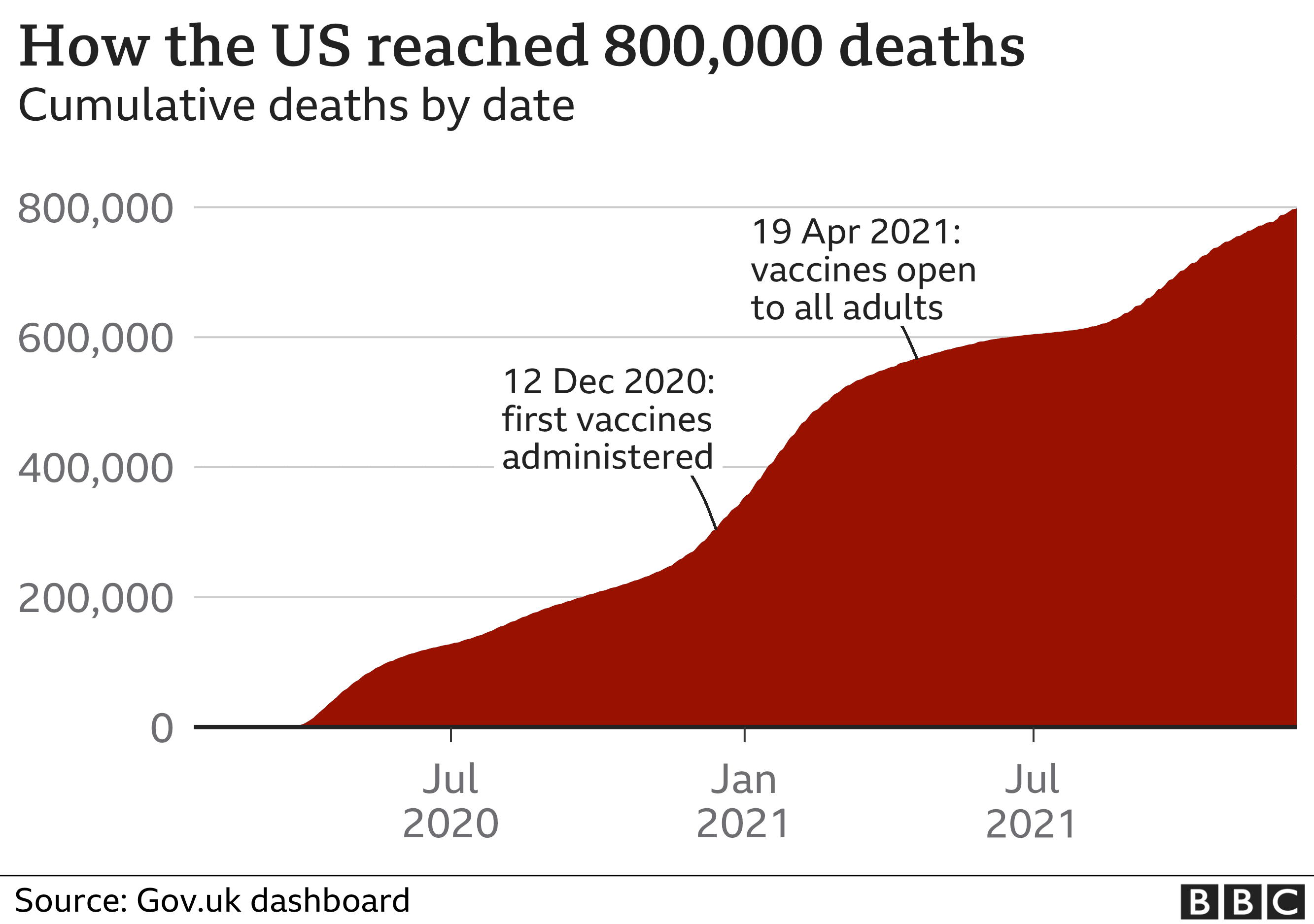 In April 2021, two more vaccines – Moderna and single-dose Johnson & Johnson – were approved, and all three vaccines were made available to adults of all ages.
The 800,000 total exceeds the populations of cities such as Boston or Washington DC. The milestone means nearly twice as many Americans have died during the pandemic as in World War 2.
The US death toll far exceeds the official tally of any other country, but experts believe many recorded death counts are under-reporting the true scale of the tragedy.
The next highest are Brazil, with more than 616,000 deaths, and India, which has had over 475,000 deaths.
In terms of deaths per capita, the US currently ranks 20th in the world, trailing several South American and European countries, according to Johns Hopkins University data.
Each country in the chart below – except the UK – was initially slower to roll out vaccines than the US. Vaccinations levels in all have since surpassed the US where 61.6% of the population is fully vaccinated.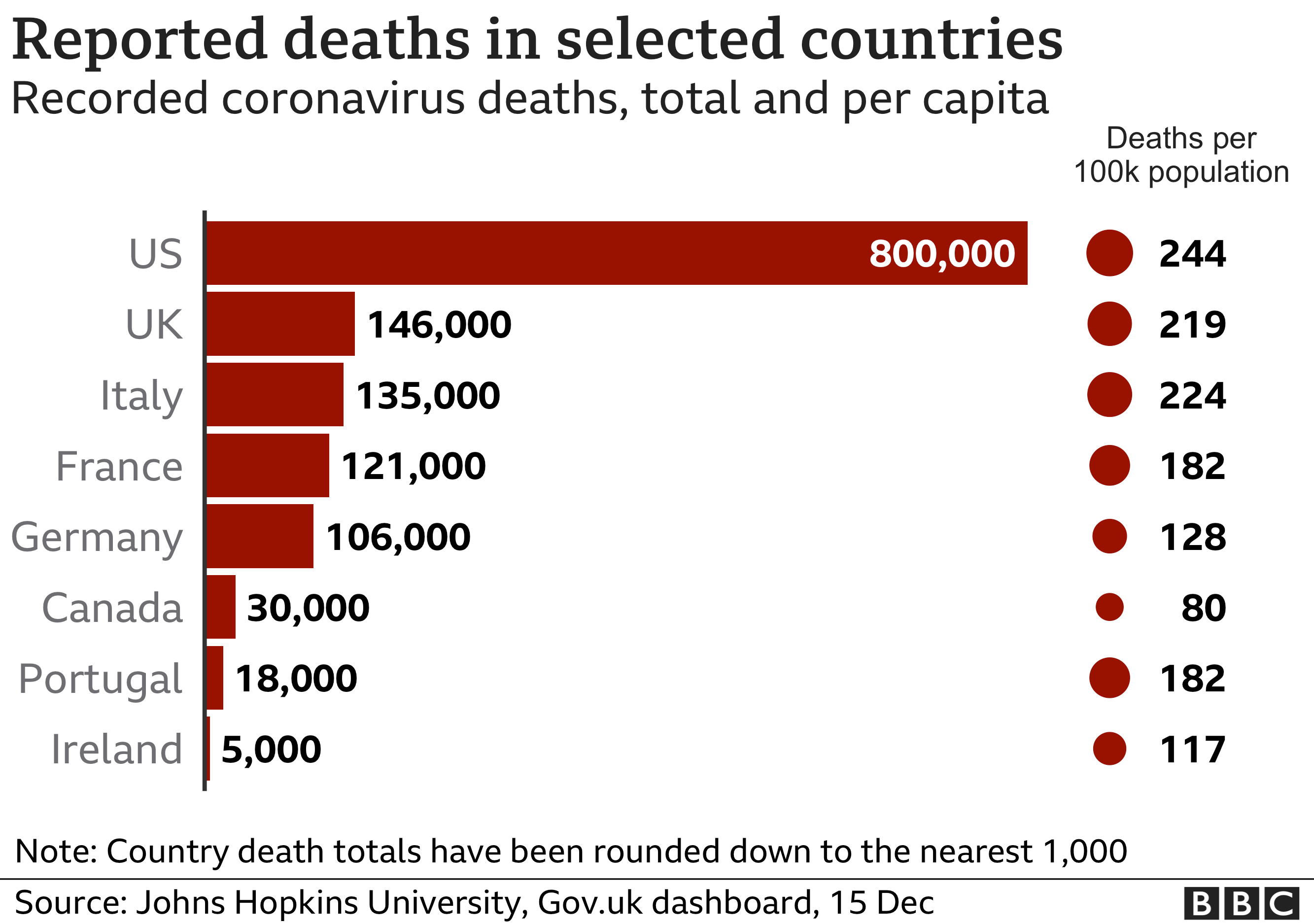 Deaths from Covid-19 have come in three main waves.
The first – which hit New York City especially hard – peaked in April 2020, before lower rates of infection in the summer and autumn.
A massive spike then occurred last winter after people had travelled and gathered during the holiday season. At its peak in January 2021, more than 3,000 deaths were confirmed a day.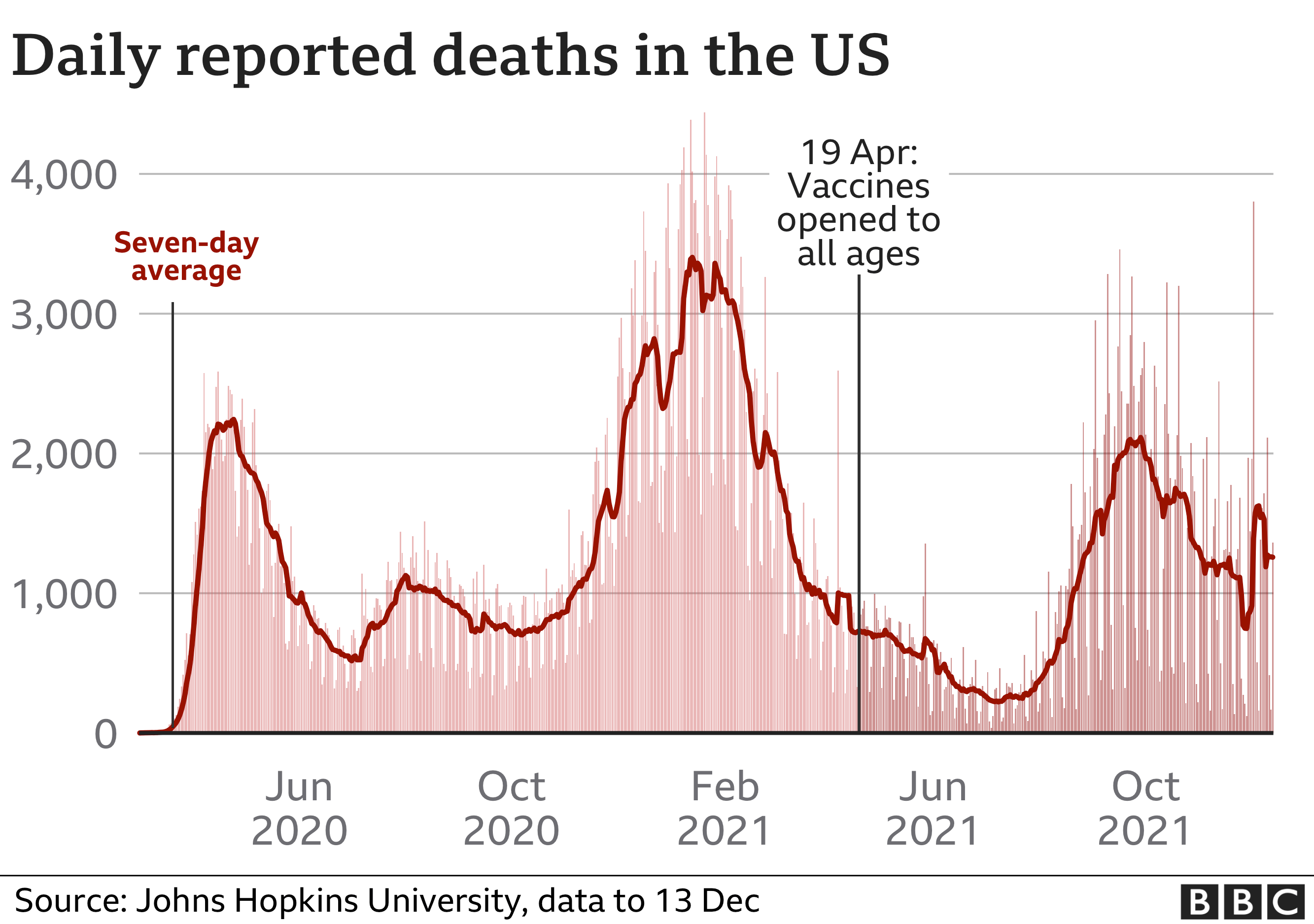 The number of deaths fell significantly last spring as vaccines became widely available, but it soared again by July and through the summer as the highly contagious Delta variant spread.
The elderly have always been the most vulnerable, and despite being the most vaccinated group one in 100 Americans over the age of 65 has died during the pandemic.
Breakthrough cases aside, unvaccinated Americans have made up the vast majority of deaths over the past few months (trends identified in the chart below come from health departments in 24 of 50 US states).
President Joe Biden began calling Covid-19 in the US "a pandemic of the unvaccinated".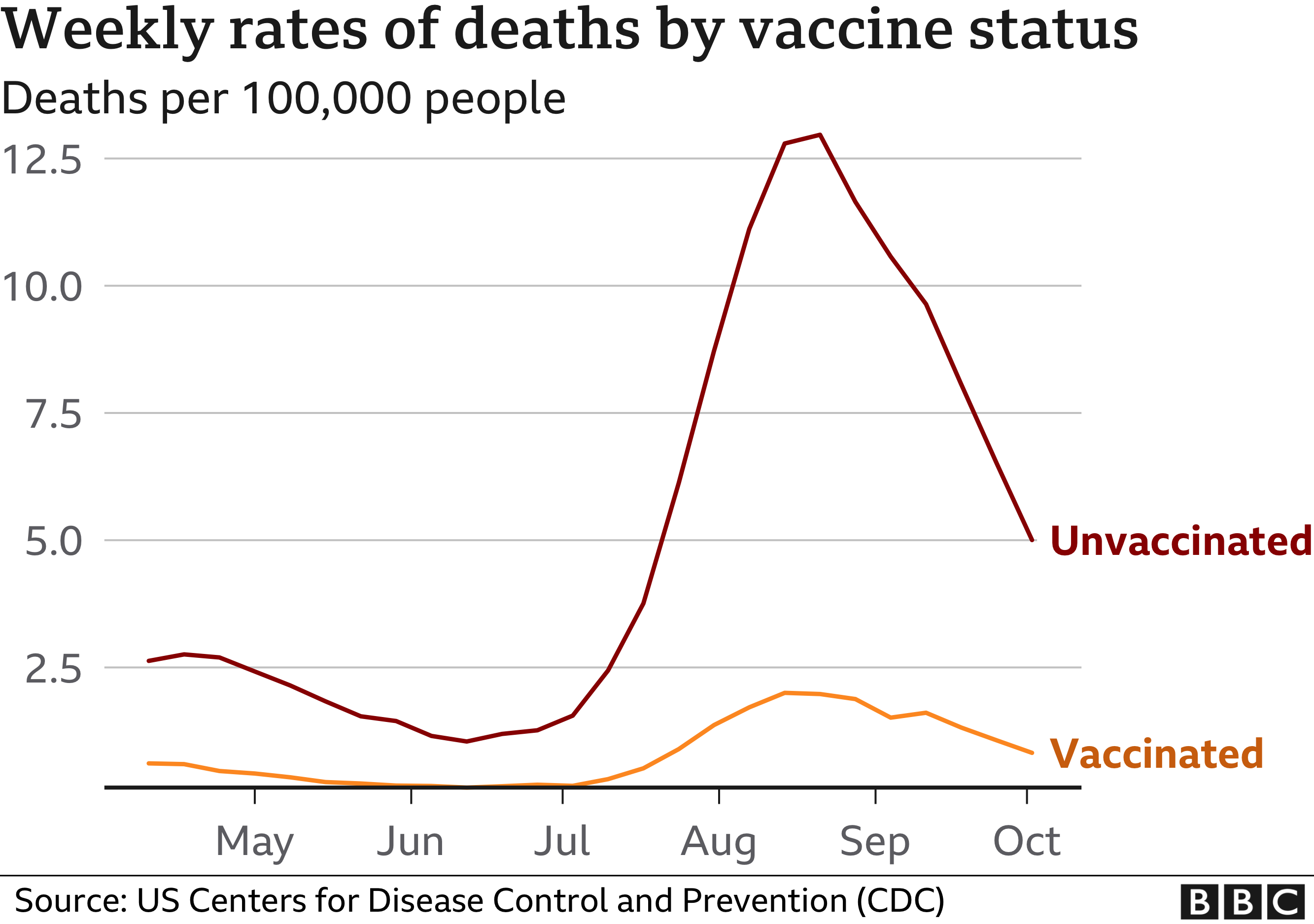 Dr Althoff contends that the US had "a lot of barriers" to overcome.
"Trust in science has waned, trust in government has waned, vaccine hesitancy is a powerful force, misinformation is rampant," she told the BBC.
"We have to do more than just trying to educate; we have to try and understand. That takes conversation and trust-building.
With death rates rising once again in much of the country, she said Delta remained a serious problem,
Public health experts are still figuring out what impact the new Omicron variant may have this winter, but officials are urging Americans to get booster shots to combat waning protection.